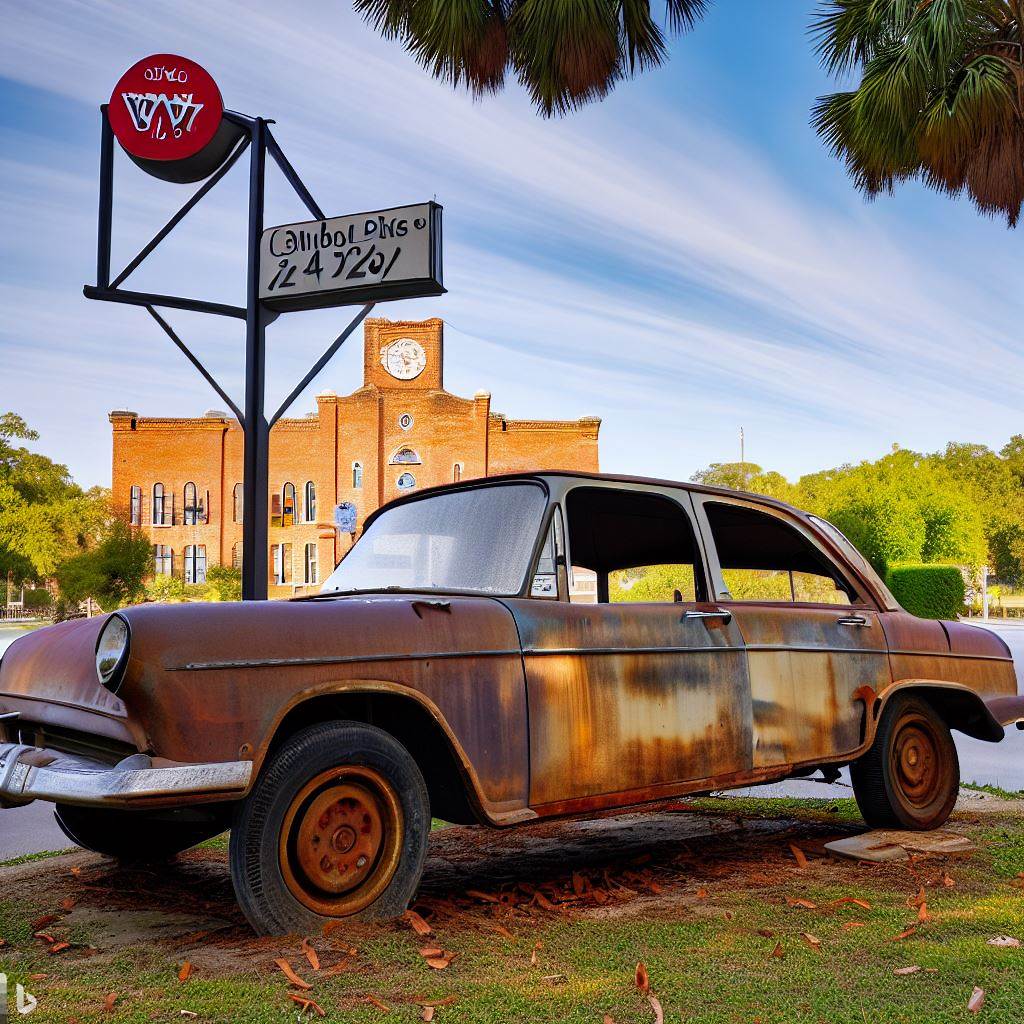 Selling your old, worn-out vehicle can be quite a hassle, but fear not, because we've got the perfect solution for you. If you're wondering, "How to sell my junk car in Montgomery, California?", you're in the right place. We're here to make the process as easy as pie. So, let's dive into how you can turn that clunker into some quick cash.
Tell Us About Your Junk Car
First things first, to get the ball rolling, you'll need to provide us with some details about your junk car. We need to know the make, model, year, and, of course, its current condition. Don't worry; you don't have to write an essay about it – just the basics. This information helps us assess the value of your vehicle accurately.
Get Your Offer
Once we have the necessary details, our team of experts will crunch the numbers and calculate the best possible offer for your junk car. We take into account the age, condition, and market demand for your specific make and model. You can rest assured that our offer will be fair and competitive.
Get Paid at Pick Up
Now comes the fun part! If you like the offer we provide, it's time to schedule a convenient pick-up time. Our team will come to your location, inspect the car, and handle all the necessary paperwork. No need to worry about the paperwork; we've got you covered. Then, once everything is in order, you'll receive your payment on the spot. It's that easy!
Maximizing Your Cash for Junk Cars in Montgomery, New York
Selling your junk car is not only a hassle-free experience, but it can also be quite lucrative. To get the most out of your old vehicle, here are some tips to help you maximize your cash for junk cars:
Do Your Research
Before you even start the process of selling your junk car, take some time to do a bit of research. Check out the current market value of your make and model, especially in the Montgomery, New York area. Knowing the ballpark figure can help you negotiate a better deal.
Keep it Complete
While it's tempting to strip the vehicle of any valuable parts before selling it, keeping it as complete as possible can be more profitable. Junk car buyers often pay more for vehicles that have all their parts intact, and it saves them the trouble of hunting down missing components.
Choose the Right Buyer
Not all junk car buyers are created equal. It's essential to choose a reputable buyer who offers fair prices and provides a hassle-free experience. Look for reviews and recommendations from others who have sold their junk cars in Montgomery. A trusted buyer ensures a smoother transaction.
Why Montgomery, New York is the Ideal Place to Sell Your Junk Car
Montgomery,New York, is a fantastic place to sell your junk car for several reasons. Let's explore why this location is the perfect spot to cash in on your old vehicle.
High Demand for Used Parts
Montgomery is known for its thriving auto industry, and there is a constant demand for used car parts. Whether it's mechanics, car enthusiasts, or other drivers in need of spare parts, your junk car can be a goldmine. Selling your vehicle here can often fetch you a better price than in less automotive-oriented areas.
Convenience and Accessibility
Montgomery's prime location and excellent transportation infrastructure make it easy for junk car buyers to pick up vehicles quickly. This convenience translates to a smoother, more efficient process for you, resulting in faster cash for your junk car.
Eco-Friendly Disposal Options
Montgomery, California, takes environmental responsibility seriously. Many junk car buyers in the area have eco-friendly disposal practices. This means that your old vehicle will be dismantled and recycled in an environmentally responsible way, contributing to a greener planet.
Junk Car Buyers Near Me: The Ultimate Convenience
When it comes to selling your junk car, having junk car buyers near you in Montgomery, New York, offers unparalleled convenience. Here's why choosing local buyers is the way to go:
Quick and Easy Pick-Up
Local buyers can typically schedule a pick-up in your area much faster than those located farther away. This means less waiting time for you and a more straightforward transaction process.
Knowledge of the Local Market
Local junk car buyers are well-versed in the Montgomery market, which means they can offer more competitive prices. They understand the local demand for specific car makes and models, ensuring that you get the best deal.
Supporting the Local Economy
Choosing a local junk car buyer also helps support the local economy. It keeps your money circulating within the community, benefitting both you and the local businesses.
Selling your junk car isn't just about making some quick cash; it's also a responsible choice for the environment. Here's how selling your junk car contributes to a greener planet:
Recycling and Reusing
Junk car buyers in Montgomery, New York, are committed to recycling and reusing as many car parts as possible. This reduces the need for manufacturing new parts, saving energy and resources.
Reducing Pollution
Old junk cars can be harmful to the environment. They may leak oil, antifreeze, and other chemicals that can contaminate the soil and water. By selling your junk car to a responsible buyer, you help prevent these pollutants from causing harm.
Cutting Greenhouse Gas Emissions
Producing new vehicles is resource-intensive and results in significant greenhouse gas emissions. By selling your junk car and recycling its parts, you contribute to the reduction of emissions associated with manufacturing new vehicles.
Top Junk Car Models in Montgomery, New York
When it comes to selling your junk car in Montgomery, some car models are particularly sought after. These vehicles often fetch higher prices due to their popularity and demand for spare parts. Here are a few top junk car models that are in high demand in Montgomery:
Ford F-150
The Ford F-150 has a strong presence in Montgomery, making it one of the most popular junk cars to sell. Its robust and durable parts are highly sought after, and this vehicle's consistent demand leads to better offers for sellers.
Chevrolet Silverado
Chevrolet Silverado is another favorite in Montgomery's auto scene. Its dependable parts and widespread use in the area make it a top choice for local buyers, resulting in competitive prices for sellers.
Honda Civic
The Honda Civic is a reliable and efficient car that enjoys popularity in Montgomery. Its parts are in high demand, and selling your junk Civic can be a profitable endeavor.
Sweet experience. But it's important to remember that your old vehicle can be put to good use, and the extra cash can help you create new memories. Now, let's address some common questions you may have about selling your junk car in Montgomery, New York
Will you still buy my junk car in Montgomery if I cannot drive it to you?
Absolutely! We understand that not all junk cars are roadworthy. Whether your vehicle is inoperable, missing parts, or simply too old to drive, we'll still buy it. Our team is equipped to handle towing and can pick up your junk car from your location, regardless of its condition.
The duration of the towing process can vary depending on your location and our schedule. However, we strive to make it as convenient and quick as possible. When you contact us to schedule a pick-up, we'll provide you with an estimated time frame. Rest assured, we aim to accommodate your schedule and make the process as smooth as possible.
Do I need to be there at the time of pick up?
While it's often preferable for the owner to be present during the pick-up, it's not always necessary. If you can't be there in person, we can make arrangements to pick up the junk car without you. Just be sure to provide any necessary information and ensure access to the vehicle at the agreed-upon time.
Yes, we buy more than just cars! If you have a junk motorcycle or an old RV that you'd like to sell, we're interested in those too. Just like with cars, we can provide you with an offer and handle the towing if needed. Don't hesitate to reach out to us with details about your motorcycle or RV, and we'll assist you in the process.
Now, you might be wondering why you should choose Junk A Car as your go-to junk car buyer in Montgomery, New York. Here are some compelling reasons:
– Competitive Offers: We take pride in providing fair and competitive offers for your junk car. Our team evaluates each vehicle carefully to ensure you get the best deal possible.
– Convenience: We make the selling process as hassle-free as can be. From the initial offer to the pick-up and paperwork, we handle it all, ensuring a smooth experience for you.
– Environmentally Responsible: We're committed to eco-friendly practices. We recycle and reuse as many parts as possible, contributing to a greener planet.
– Local Expertise: Our team is well-versed in the Montgomery, New York, market. We understand the local demand for different vehicle types, allowing us to offer competitive prices.
– Quick Pick-Up: We aim to pick up your junk car quickly, minimizing any inconvenience on your end. Our local presence ensures a faster and more efficient process.
Montgomery, New York, is a vibrant and picturesque city nestled in the heart of the Golden State. Known for its diverse culture, stunning landscapes, and a rich blend of urban and natural beauty, Montgomery offers a unique and inviting experience to residents and visitors alike.
This charming city boasts a Mediterranean climate, with mild winters and sunny summers, making it an ideal place for outdoor activities year-round. Montgomery is renowned for its lush parks, including the sprawling Montgomery City Park, where families can enjoy picnics, hiking, and various recreational activities.
Culturally, Montgomery is a melting pot, with a thriving arts scene, diverse culinary offerings, and a strong sense of community. The city's historic downtown area features a mix of boutique shops, restaurants, and entertainment venues, adding to its unique character.
Montgomery's strong educational institutions, including prestigious universities and schools, contribute to its intellectual vitality. With a warm and welcoming atmosphere, Montgomery, New York, offers a little something for everyone, making it a wonderful place to live, work, and explore.
FIND YOUR CAR'S VALUE!
This following list is an average of the cars that we have purchased in your area. The actual value of your vehicle may be higher or lower than the average. Your car could be worth substantially more! Call now to get a quote.
| Vehicle | Minimum Paid | Maximum Paid |
| --- | --- | --- |
| 1974 chev el camino | 200 | 200 |
| 1986 Mazda RX-7 | 175 | 300 |
| 1985 Ford F-150 | 100 | 375 |
| 1992 Ford E-250 | 250 | 320 |
| 1996 Mercury Villager | 100 | 480 |
| 2001 Kia Optima | 125 | 570 |
| 1995 Buick Century | 50 | 385 |
| 1985 Ford F-250 | 142 | 350 |
| 1996 Chevrolet celebrity | 250 | 250 |
| 2007 Hyundai Elantra | 150 | 1000 |
| 1988 Ford LTD Crown Victoria | 100 | 325 |
| 2000 Ford Econoline Wagon | 225 | 500 |
| 1987 Gmc Sierrah | 225 | 225 |
| 1996 Ford Windstar Cargo | 200 | 225 |
| 2002 Chrysler Sebring | 100 | 450 |
| 1992 Pontiac Firebird | 125 | 250 |
| 1999 Chrysler Town and Country | 100 | 450 |
| 2004 Dodge Neon SRT-4 | 250 | 1000 |
| 1992 Pontiac Sunbird | 90 | 335 |
| 2005 Ford Focus | 200 | 600 |
| 1996 Toyota Corolla | 50 | 510 |
| 1999 Land Rover Range Rover | 120 | 920 |
| 2004 Kia Amanti | 220 | 525 |
| 1989 Ford Tempo | 150 | 300 |
| 1990 Mercedes-Benz 190-Class | 180 | 390 |
| 1994 GMC Jimmy | 100 | 385 |
| 1997 chevrolet corsica | 200 | 275 |
| 1990 Chevrolet Chevy Van | 100 | 400 |
| 1996 Dodge Ram Van | 25 | 400 |
| 2003 Acura MDX | 600 | 2500 |
| 2002 Honda Accord | 80 | 1500 |
| 1991 Ford Escort | 100 | 350 |
| 1999 Nissan Pathfinder | 25 | 800 |
| 1991 Nissan Truck | 150 | 350 |
| 1991 Chevrolet S10 | 110 | 250 |
| 1999 Infiniti G20 | 125 | 350 |
| 1996 Ford Taurus | 55 | 400 |
| 1994 Ford Taurus | 50 | 375 |
| 1997 Mazda MX-5 Miata | 250 | 400 |
| 1998 Acura Integra | 200 | 450 |
| 1992 Mazda B-Series Pickup | 200 | 300 |
| 1986 Honda Accord | 100 | 310 |
| 2001 Chrysler Concorde | 50 | 420 |
| 2002 Ford Taurus | 50 | 455 |
| 1999 Dodge Neon | 100 | 350 |
| 2005 Nissan Maxima | 250 | 1600 |
| 1993 Chevrolet Suburban | 140 | 540 |
| 1986 Ford F-250 | 110 | 300 |
| 1972 pontiac lemans | 225 | 225 |
| 1999 Pontiac Sunfire | 50 | 400 |
0 results